SOJA
with Special Guests Hirie and Mihali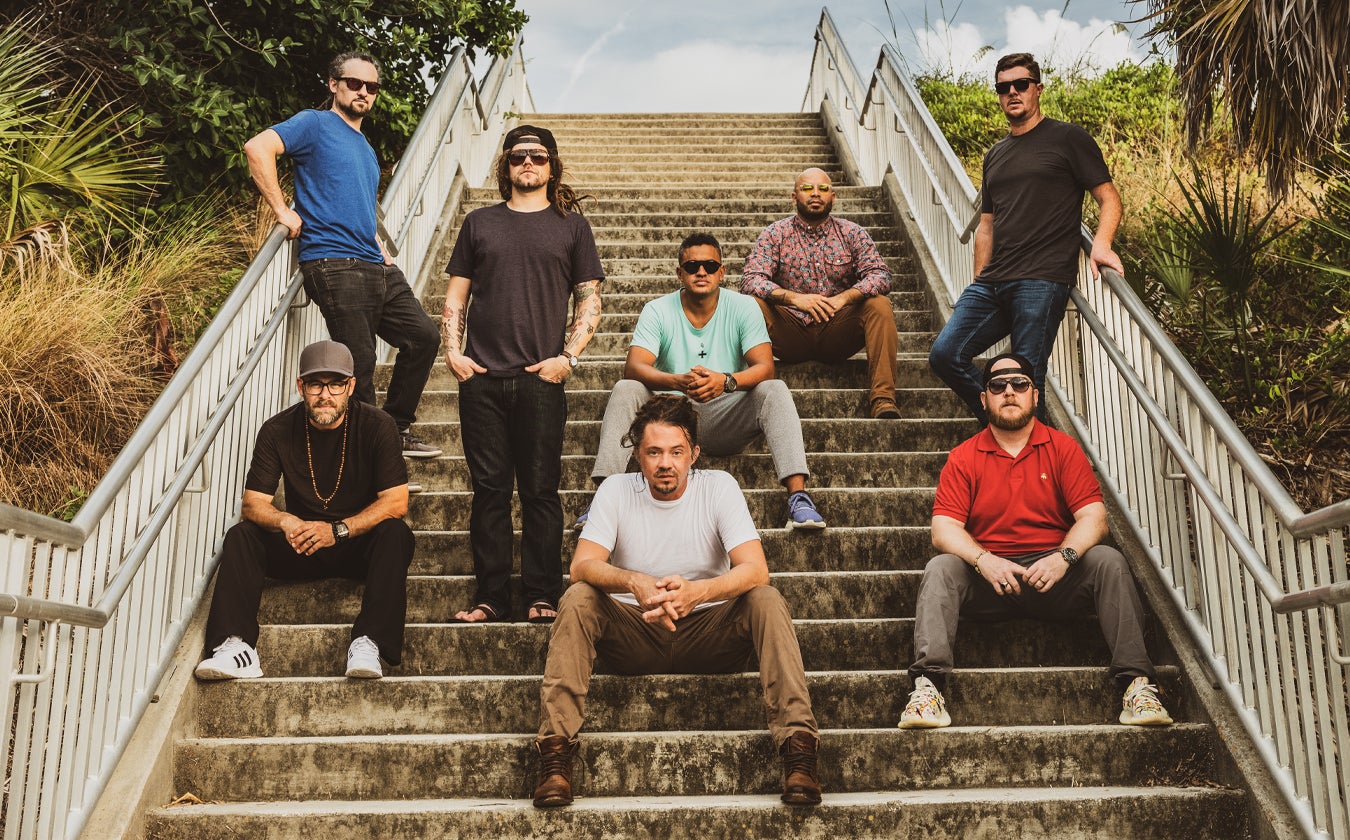 Oct
14
, 2023
SOJA
with Special Guests Hirie and Mihali
Date

Oct

14

, 2023

Event Starts

6:30 PM

Doors Open

5:30 PM

Ticket Prices

$42.50 - $45.00

On Sale

On Sale Now

Seating

GA Standing
SOJA
with Special Guests Hirie and Mihali
Event Details
For more than two decades, SOJA have elated audiences across the globe with their fresh yet timeless take on roots reggae, a sound born from their shared passion for making music that transports and inspires. On Beauty in the Silence—their first new album in four years—The Grammy Award-Winning band deepens that communal spirit by collaborating with artists from all corners of the reggae world, including the likes of UB40, Slightly Stoopid, Stick Figure, and Rebelution. Fueled by the sheer force of their connection and chemistry, Beauty in the Silence ultimately makes for a much-needed antidote to fractured times, infusing so much warmth and wisdom and unstoppable joy into each and every track.
Like 2014's acclaimed Amid the Noise and Haste (a Grammy nominee for Best Reggae Album), the title to Beauty in the Silence references the opening lines of Max Ehrmann's beloved poem "Desiderata": "Go placidly amid the noise and haste, and remember what peace there may be in silence." "My dad had that poem memorized, and before I'd go out on tour he'd sort of whisper it in my ear," says SOJA frontman Jacob Hemphill. "To me it's a reminder of what we lose when we get caught up in the distractions all around us. You get so used to life being loud and fast and goal-oriented, but then you go out in nature and hear the silence and realize, 'Damn, I got tricked.' Life doesn't have to be all go, go, go. The real key to life is in being still."
In keeping with the notion of slowing down, SOJA deliberately took their time in creating Beauty in the Silence. As they explored new sonic terrain—recording in such iconic spots as Miami's Circle House Studios and Dave Matthews Band's Haunted Hollow, and teaming up with producers like Niko Marzouca, Mariano Aponte, and Johnny Cosmic—the band eventually phased into working remotely as stay-at-home orders set in across the country. In that process, lead guitarist Trevor Young (formerly SOJA's guitar tech) took on a much greater role in the band's creative direction, co-producing alongside Jacob and carefully shaping the album's hypnotic sound. "I really love that this record is a mix of all of us together in a room and all of us far apart," Jacob says. "It's something that I'd love to keep doing in the future: let's get together, let's get the vibe and the groove, and then let's go off into our own worlds and discover what's there."
Instantly setting the album's mood of soulful celebration, Beauty in the Silence opens on "Press Rewind" (ft. Collie Buddz and J Boog), a track that first took form late one night on Buddz's tour bus. "We were on tour together, and after the show Collie was going through beats on his phone," Jacob says of the Bermudian reggae artist. "He played me that one and I came up with the opening lyrics right away, and it turned into a song where everybody tells their story of how they fell in love with music—in my part I'm talking about me and Bobby and Byrd watching DVDs of Bob Marley and Peter Tosh, and realizing that's what we wanted to do with our lives." Capped off by a fiery verse from Hawaii-based reggae singer J Boog, the result is a gloriously radiant tribute to how music enlightens and sustains us. "The details are different for each of us, but the story remains the same: we fell in love with music, and we couldn't ever break up," Jacob says.
In its delicate exploration of love in all its forms, Beauty in the Silence also offers up intensely personal tracks like "The Day You Came" (ft. Rebelution and UB40), a bittersweet breakup song that perfectly captures the confusion of heartache. "All my love songs are a conglomerate of experiences I've had; it's never about just one person," Jacob points out. "But one thing I always make sure to do is write from the perspective of the woman I was in the relationship with, because to me that's the way to tell a story that's bigger than what happened between these two people." In a particularly meaningful turn for Jacob, "The Day You Came" finds UB40's Ali Campbell lending his soothing vocals to the final verse. "Me and my dad used to sing 'Impossible Love' by UB40 all the time—we'd sing together at his piano, we'd sing it when we were driving somewhere," says Jacob. "Before I even knew Bob Marley, UB40 were my entry point into loving reggae."
As Beauty in the Silence unfolds, SOJA reveals the intangible magic that comes from letting their creative instincts run free. On "Break It Down," for instance, the band shares a stark yet sublimely detailed track that Trevor and Jacob scratched out in a New Caledonia hotel room. "We'd just gotten to this beautiful island and all the other guys were going down to the beach, but Jake and I said, 'Nah, we're just gonna sit in this room and make some songs,'" Trevor recalls. Driven by a soul-stirring performance from SOJA saxophonist Hellman Escorcia and trumpet player Rafael Rodriguez, "Something To Believe In" (ft. Stick Figure) emerged from an instrumental that Stick Figure frontman Scott Woodruff recorded in the studio he'd set up in his Sprinter van. "It's a song about those times in life when you feel like you're walking through darkness and it's so hard to find the light to lead you out," says Jacob. "We actually wrote it months before the pandemic started, but it feels like it could've come from that moment." And on "Jump" (ft. Slightly Stoopid), SOJA reimagine a sweetly empowering song penned by their tour manager, Eric Swanson. "When I was a kid someone asked me, 'Would you accept everlasting life on the condition that you could never speak to another human again?' And my answer was no," says Jacob. "'Jump' is a song about how the real basis of the human experience is connection, and I love that it's SOJA and Eric and Stoopid all coming together as people who've known each other a very long time."
One of the final tracks on Beauty in the Silence, "Reason To Live" (ft. Nanpa Básico and Dirty Heads) bears a certain spellbinding quality that Jacob partly credits to Dirty Heads' mind-bending creativity. "Those guys are like mad scientists; they've got music that sounds like hip-hop and reggae and pop all at once, and at the root of it are these lyrics that hit you so hard," he says. With its shimmering groove and shapeshifting textures, "Reason To Live" features a Spanish-sung verse from Colombian hip-hop artist Nanpa Básico, adding even more urgency to the song's message of open-hearted perseverance. "You might be going through life with all these plans and thoughts of how it's all going to work out, and then something happens and you realize that what you were so focused on was actually hurting you," says Jacob. "The truth is that the future isn't in your hands, and your reason to live might come from a place that you weren't expecting at all."
Elsewhere on Beauty in the Silence, SOJA join forces with everyone from up-and-comers like Filipino-American reggae singer Eli Mac ("A true original, and one of the most creative people I know," according to Jacob) to longtime friends and tourmates like the Hawaiian band Common Kings ("They're a huge inspiration when you're on the road—every single night, they hit the stage like a fireball"). And while each artist brings their own distinct sensibilities to the mix, all of the guest musicians are deeply aligned with SOJA's mission of uplifting the masses. "My hero's always been Bob Marley, and that's mainly because he had this way of letting people find their purpose in the music," says Jacob. "It didn't matter if you were white or black or a girl or a boy or rich or poor, you felt like he was talking directly to you. So that's what we were trying to do with this record: make it as real as possible and tell the whole story of our experience, not just the shiny parts. That's how you create something that really connects, and that hopefully leaves this place at least a little better after you're gone."